This past weekend marked the return of one of my all time fave armies in 40K, TYRANIDS! When I first began playing 40K the two armies that stood out for me were IG and Tyranids, because of the movie Aliens being my fave movie of all time. Nids are just a fun and crazy change from the usual humans of 40K, be it IG or Marines. Due to my other armies being more of a priority to paint, I haven't given my bugs that much paint time. I just enjoy gaming with this army for the most part.
The new Codex is just awesome, the new background is cool to read. To read up on a Nid vs Necron battle is killer cool! Some of the Ork, Chaos Forces and even Daemonic forces under siege by these buggy monster was awesome to read about. The new characters and units now available have really spruced up this army a lot. Not to mention all the conversion ideas that are now floating about. Along with picking up a codex I grabbed up 2 boxes of the new Gargoyles, and a new Trygon. The models are some of the best and most unique product put out by GW. I have already built one box of Gargoyles and they look fantastic! My rolling horde of gaunts will be seeing time on the table soon once I digest this new codex. Can you tell I'm excited....
My own creation Hive Fleet Eclipse will be awakening once more to devour all in its path again.
A Tyrant of the Hive Fleet
The Hive Fleet prepares to assault!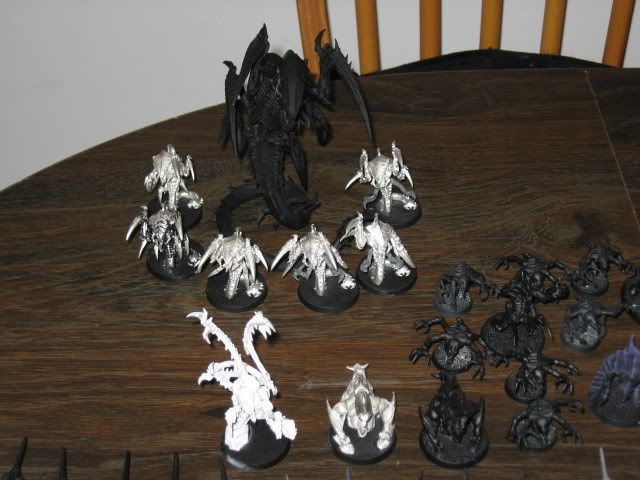 The FW Trygon is the Coolest looking Bug put out there...in my opinion...
PAST GLORIES OF HIVE FLEET ECLIPSE
Devouring Imperial Forces.....

Enjoy!