The Slaanesh Subjugator was a project I began last year. After GW released the Subjugator datasheet for apocalypse, I was curious about this beast. I did some quick research on the subjugator, and decided this would be a fun alternative to a Warhound Titan. The Subjugator is really a Titan on the same level as a Warhound, without the massive nuclear engine for void shields. It's a very quick and nasty daemon engine designed to rush ahead of the main force and scout for the army. In close combat this machine has the quickness of any Slaanesh force with high initiative even for a Titan class machine. I looked online at other ongoing project of this type, as well as others that might work for this, like upright walking defilers. After much research and talk with others conversion experts I had the basic idea of how this machine would come to be. So I set out, buying the kit Friday Night one weekend. I worked all night getting the legs right, double jointed so they look like the epic model. I spent the rest of the weekend non-stop well into 5 AM building the rest of the model. Here are some shots right after I finished building it.
The face of things to come....Notice the Leman Russ Bits...I needed the extra Tormentor Cannon....
This Subjugator has High Heels....Heh! It was something wacky I thought of at the time....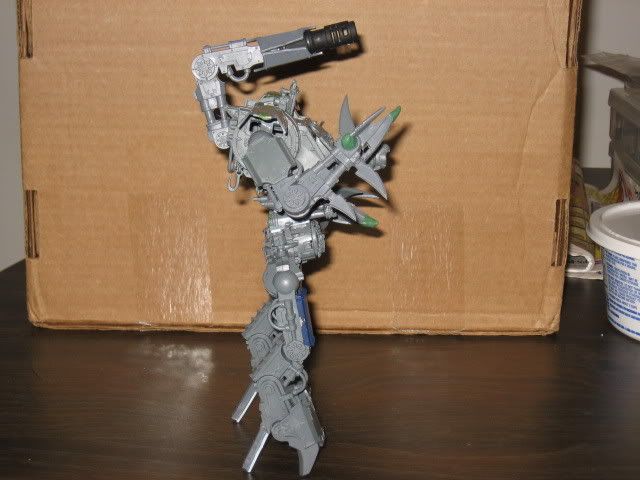 Some pasticard for the heels, and at this stage it's still missing a few more armor bits coming later on.....
Little bit of Green Stuff here and there to attach the Hell Slicers to the arms....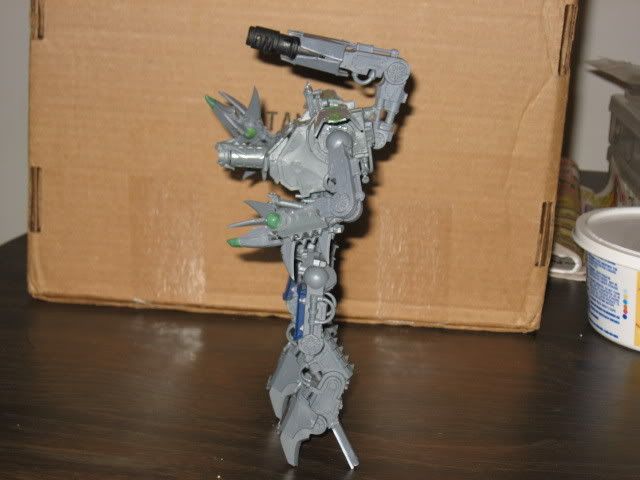 Finally a comparison shot with one of my Armorcast Warhounds......Subjugators don't need to be as bulky due to the lack of Void Shield reactors and other wasted things like cockpits for a crew...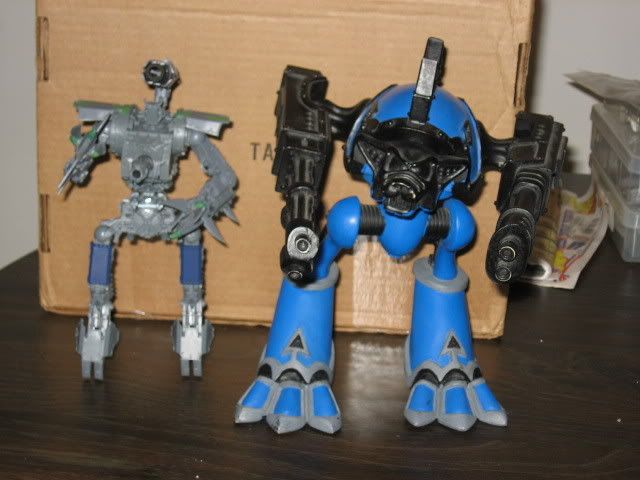 For those of you who are interested in reading up on what a Subjugator is.....Here is the link to the GW Datasheet for Apocalypse....
Slaanesh Subjugator
I thought about how I could make this guy cool and still keep the Cash flow down....So here are the materials I used....
Things you need to Build The Subjugator:
1. One Chaos Defiler Kit
2. Some Pasticard
3. Green Stuff/Putty
4. A few Leman Russ Bits
That's all for now.....Enjoy!